The Herpes Talk
Telling Someone You Have Herpes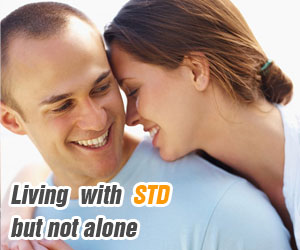 PositiveSingles.com- the best, most trusted and largest anonymous STD dating site!
Having the herpes talk with someone is certainly one of the most dreaded parts of a single person's life while living with genital herpes. The herpes stigma surrounding the virus and the fear of rejection often leads us to be uncharacteristic of ourselves. Some will go to great lengths to avoid talking about herpes. Some will avoid dating all together. There are even some people who refuse to accept their condition and they elect to never tell their dates about their conditions. None of these are very healthy responses for your mental well-being and self-confidence.
The Golden Rules for The Herpes Talk
GOLDEN RULE #1, which is an absolute REQUIREMENT, is you must discuss your condition BEFORE having sex with your partner.
Although you may know the herpes transmission rates and have taken all the necessary precautions to protect someone, there is still a risk of transmitting it to your partner. It's just not morally right to withhold your condition and you could be held criminally liable, subject to jail time and civil judgements if you happen to infect a partner with the herpes simplex virus. Failing to have the talk about herpes is just not worth it.
GOLDEN RULE #2 is to never wait until you are about to have sex (this includes oral) to blurt it out. The heat of the moment is often too strong for either of you to rationally and responsibly discuss your condition.
When Is The Best Time to Have The Herpes Talk?

Other than the two golden rules listed above, figuring out a certain point in a relationship to have the herpes talk is mostly a personal choice. Every person is unique and each relationship proceeds at different paces. You may discover that having the talk before getting too emotionally attached works better. Or you may want to have the talk much sooner. It's really difficult to pin-point an exact time. You may tell someone as soon as before a first date or wait for several months. This is a personal choice that is often dictated by the course of the relationship.
I explain my personal opinion on when is the best time to tell in this article here.

How to Prepare for The Herpes Talk?

There are many sites and articles recommending that you prepare for the talk by gathering as much information as possible to be able to give to your partner. They recommend printing out articles and grabbing pamphlets from your doctor. Many more will tell you to set the right atmosphere for the conversation and others will tell you to remain relaxed. This site recommends preparing in a much different way. You must prepare yourself and the rest will fall into place.
Preparing yourself begins with accepting that herpes is now a part of you. Much like your legs, fingers, ears and yes even your slightly crooked pinky toe! The herpes simplex virus has set up it's home inside of you and until a cure is discovered its not going anywhere!
As stated on the Dating With Herpes Page you can learn and practice the herpes talk. You can memorize and script the exact words that you're going to say but if your self confidence doesn't mirror what you're trying to accomplish (presenting the information in hopes of avoid being rejected) then you are likely to fail. Failure will destroy your confidence and self-esteem even more. Even worse is that it will attract all the wrong types of people into your life making it extremely difficult to regain your confidence.
This about this for a moment. If you are not confident and accepting about your condition then how can you expect someone who doesn't even know you to accept your condition and remain confident that you'll do everything to protect them? So the answer is simple. Accept that herpes is now a part of you and present a confident attitude.
I know that it's tempting to try and fill your head with every possible response that your date will have when you tell them that you have herpes but it's just not possible. The fact is that you only need to develop your self confidence to experience success.
The important thing that you need to know is to get started right now! The longer you wait to have the herpes talk the harder it will be to get going. You will need fast success because the faster that you start experiencing success, the faster you will gain self confidence!
4 Powerful Herpes Dating Tips for Having "The Herpes Talk"
Pick The Location Carefully.

Choose a place with a powerful emotional "vibe".  I prefer a carnival, amusement park, bowling alley, or an arcade.  Anywhere that you're surrounded by games, lights, sounds, laughter, and rides. All these things serve to break up the tension and usually help lighten the mood.
If You're Nervous, They Will Be Too!
If you approach "The Herpes Talk" If You're Nervous, They Will Be Too!  with a calm and relaxed head, you can remain in control of your emotions.  If your hands are shaking and you're sweating bullets, it's going to send out so much negativity, your partner won't be able to grasp what you're telling them with a clear head.
Wording Matters!
Certain words and phrases can cut like a knife. Try to avoid using certain terms like, "genital herpes", "incurable", and "contagious".  Instead, cushion the blow by saying things like, "I carry the virus that causes herpes. It's not really as bad as it's made out to be. I take very good care of myself and take medication that prevent the outbreaks that allow it to spread."
Educate Yourself!
If you haven't learned everything you can about your genital herpes, shame on you! Now's the time to start.  Keeping yourself educated will not only protect you and your partner, but being able to answer their questions during "The Herpes Talk" will make you seem like you're responsible and in control.
Over the past couple of years, I've had a tremendous amount of requests from people looking for help when faced with having "the talk". So much that I have created another website and coaching program dedicated to the topic. Click the link if you're interested in leaning more about how to tell someone you have herpes


PositiveSingles.com - the best, most trusted and largest anonymous STD dating site!
---
---
Have A Great Story About Having "The Talk" With Someone?
Do you have a great story about having "The Talk" with someone?

Are you currently dating someone and have a question about having The Herpes Talk?

Share it below and we'll respond as soon as possible!
Learn More Tips For Having The Herpes Talk

---
Click Here for More Information on Herpes Dating
Click Here for More Herpes Dating Tips
Click Here if You've Decided to Date Someone with Herpes
Telling A New Partner You Have HSV - Learn The Best Way