Herpes Dating Tips:
Everybody Is Insecure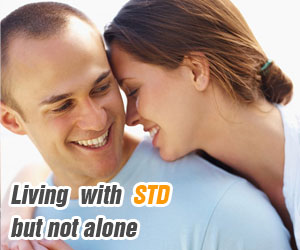 PositiveSingles.com
Herpes Dating Tips - Are you Looking For Herpes Relationship Advice?
Whether you have herpes or not, EVERYBODY has an insecurity of some kind. Some people are short. Some are chubby. Some are skinny. Some of us are balding. Some of us are sagging in places that used to be firm.  We just happen to have the virus that causes herpes.

You have to learn how to communicate your confidence THROUGH your herpes, and at the same time not seem defensive, or like you're carrying around issues about it.
Do you remember Stephen Hawking? He's a man who is totally incapacitated by Lou Gehrig's disease. Totally paralyzed. Do you recall that he got remarried a few years back?
Sure, you can say, "Yeah, but he's the most extraordinary man alive. He's got something special and a lot going for him."
Really? He's totally paralyzed and can't even talk without his computer chair. The man has every reason to feel sorry for himself. A lot more so than someone with herpes.
But, yes he does have something special going for him.
He is self-confident. He expects to be successful. He doesn't let his disabilities determine who he dates or marries. He is determined not to let his condition dictate his life. He refuses to accept anything less than his brilliance to attract and build solid relationships.
Herpes Dating Tips...Discover Your Brilliant Attributes AND Build On Them!
I can tell you that any person can find true love if they find that brilliant part of themselves, build on it, and then sell it hard.
They don't need to find a herpes dating forum or a herpes dating service.
You need to deal with your herpes condition DIRECTLY. That's one of the personality traits that people really respect and admire. Your directness says that you're not afraid to deal with situations when they come up. It's showing self-confidence.
Most people (guys and girls) tend to sweep small issues under the rug rather than deal with them when they're small and can be managed.
It's a bad habit we acquire somewhere in our lives, and it holds us back in so many ways, because those little things will inevitably grow if they're not addressed.
If you choose to target and settle for other people with herpes you will probably find other more important personality flaws. Often these people are insecure too. Human relationships are not math problems....two negatives do not equal a positive. Especially in a herpes relationship.
Herpes Dating Tips...Develop a Positive Attitude With Your Herpes Condition

One of the ways I managed to have a successful single life while living with genital herpes, as well as help others to do the same, was to deal directly with problem. If you do this before they even become a problem, then you can turn that 'problem' into a benefit for you by disarming other people's defenses.
If you have positive thoughts and feelings about your herpes condition you'll always come out ahead. Most people try to take themselves away and hide their shortcomings including their herpes condition, but you can do better by exposing it, poke a little fun, and then get on with the business of showing your date your self-confident side. Show them that brilliant part of yourself and really work it.
Be Direct. Be Self-Confident

Trust these important herpes dating tips...Directness if is one of the most overlooked elements of self-confidence. Learn to be direct and develop your own unstoppable self-confidence!
Look for more herpes dating tips coming soon!
---


PositiveSingles.com - the best, most trusted and largest anonymous STD dating site!
---
---
Learn More About Herpes Dating

---
Have A Great Tip for People Dating With Herpes?
Do you have a great dating tip or advice for people who have herpes?

Do you have an inspirational story about dating with herpes?

Share it and be an inspiration to others!


Return to the Herpes Dating Page
Are you Dating Someone With Herpes?  Click Here for Tips!
Worried About Telling Someone You Have Herpes?  Click here for Important Advice
Tips on Having The Herpes Talk