Dating With Herpes:
Success Requires A Shift In Thinking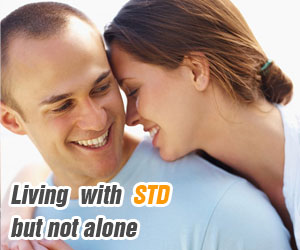 PositiveSingles.com
Dating with herpes can be a huge hindrance as well as a real headache to any single person's life. However, you should discover a peace of mind knowing there have been numerous people who successfully smashed free from the troubles associated with dating with genital herpes and are now living in happy and sexually rewarding relationships.
Many of us living with genital herpes have been scared to begin dating again, for fear of being rejected, or simply just for fear of passing the virus to their new companion. Many people never have informed even their close family and friends about their predicament.
Even the phrase "herpes dating" has such a dark undertone that after a period of time destroys even the most confident person's self esteem.
Fear is a very powerful emotion and the fear of rejection can cause us to settle for less. Or even worse, cause people to quit dating altogether. This is the primary reason why I will not recommend herpes dating web sites, if the only reason for joining is your fear of rejection.
Why is dating with herpes such huge a hurdle to some people and virtually effortless to others?
Is HSV-2 the reason?
Or is it the effects that genital herpes has on your self-esteem and confidence?
From the moment that we were diagnosed, the majority of us experienced a dramatic personality shift. Our confidence began draining out of our bodies the moment that our doctor uttered that painful sentence:
"The test have confirmed that you have genital herpes."
It felt like our souls left our bodies leaving a dead space and void deep inside our stomachs. The diagnosis is especially painful to those who already had shaky self-confidence.
Confidence Is The Key To Your Success

The key to ridding yourself of this fear is to regain your confidence and self esteem. Without confidence, your success will be limited at best and a disaster at worse.
The reality is that you can learn all facts about herpes. You can read articles and web pages about "How to Tell Someone You Have Herpes" You can script it all out and memorize it.
But if your confidence and identity doesn't match with what you're trying to do, you're going to crash and burn.
The person who will ultimately turn rejections into attraction and acceptance will be calm, confident and displays value in spite of genital herpes.
Begin Building Self Confidence by learning all that you can about
Sometimes simply knowing all the facts about HSV isn't enough to rise above it and effectively communicate and more importantly...demonstrate self-confidence. Sometimes it takes following a proven program or even professional counseling to get you back to the self-confident person you used to be before finding out about HSV.
Hey, I've been down that road and it's not easy. It takes time, effort and a burning desire to keep yourself motivated and break free of the grip that herpes has on you. I'm doing very good now but I still have to work at it every single day.
If you are searching for an effective self-confidence program, then forget all the self-help books out there. They love to try to explain this stuff but few will provide you with any course of action to take. You will need a program that will actually give you all the tools to build your self-confidence.
Through all of the troubles, heart aches and pain that we all have experienced, in the end dating with herpes doesn't have to be hard. It doesn't have to be an obstacle that holds you back from living your life to the fullest.
Get Your Sexy Back!

CLICK HERE For A Great Self-Confidence Program and Get Your Sexy Back!
I've used it and it worked tremendously. I highly recommend this program to all the members of my dating with herpes coaching program.
Click Here! to get more information about this incredible program
---
---
Learn More About Dating With Herpes

---
Click Here for More Herpes Dating Tips - Discover How Being Direct Reflects Your Self-Confidence

Click Here if Someone Just Told You That They Have Herpes

Click Here If You Think Its Time To Have The Herpes Talk
Are You Dating Somebody With Herpes?  I have Some Important Tips for You too!